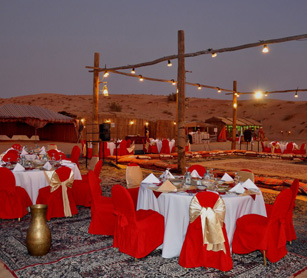 The Perfect Scenery of Thar Desert for your Event
On the edge of the Thar Desert, in the land of genesis, Umaid Safaris & Desert Lodge offers a unique event facility with exceptional views and facilities that cater all sorts of events: private functions, business gatherings, workshops and seminars. 
With us, you can host your family get-togethers, official business meetings and even a grand party for your squad at our heart throbbing property. Our friendly staff ensure smooth execution of your private function and leave an unforgettable memory of the ethnic village resort. We prepare special Rajasthani cuisine food and drinks under the starry sky of the desert with good music and environment.