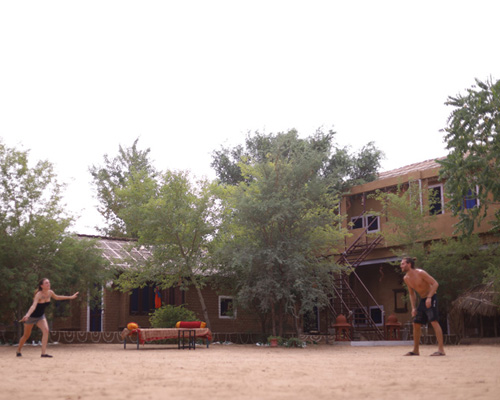 "Free Yourself in the Land of the Thar Desert" Celebrating the connection between men, nature and the magic of desert life, the Umaid Safaris & Desert Lodge invites you to experience the beauty of eco-vacation adventures. Located on the edge of the Bikana, we invite our guests to enjoy the privilege of waking up to a true panorama view of creation.
We believe man is not to conquer nature, but to coexist with it, and this belief shapes the way we live and designed the premise: from our eco-accommodation through the communal space and outdoor area. Our eco lodge is a unique experience and a gentle way to discover the local Rajasthani culture, we dont't provide luxurious thing like 5 Star, our luxury is the richness of nature where silence, peace and serenity of the Thar is yours to experience.
We offer hand-build accommodations that blend with nature, tents and eco-structures to cater for your needs. We offer Four accommodation types:
Swiss Cottages built from mud and sheeting, covered with earth materials; we have the following eco tent options:
The TIPI Tent built in the style of a traditional Known as RED INDIAN TENTS, contains 02 to 06 single beds, recommended for groups or communal sleeping.
Alpine Tents This uses in long route safaris.
Camping area where guests can bring their own tents.
All accommodations share a communal area, toilets and shower facilities, with hot water .