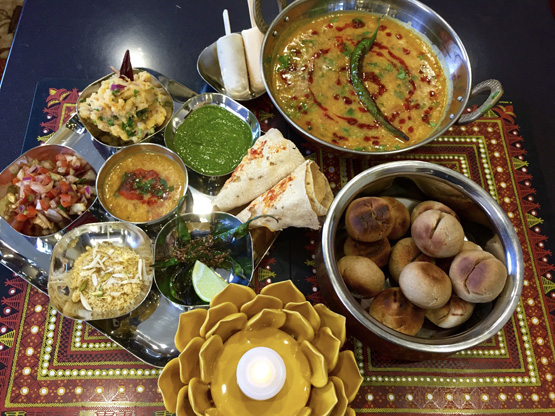 Celebration of Desert Flavors
Our open air restaurant celebrates the wealth of a desert oasis. Using only natural and local ingredients, we bake our own breads by wheat & millet, and serve a variety of local produce, such as Ker Sangari, Traditional Gutta veg., Bajri ki Roti( Millet Bread) & Lal Maas our Specialty; we also serve food with your taste! Specializing in quality, home-made, slow-cooked food, our meals are a feast for special occasions, including Baati cooked in Sand & ash of camp fire, Bar be Que Chicken specialty sweet dishes and more.The restaurant offers daily breakfast and dinner upon request, and specialty cooking for large groups or during the weekend. All meals are made fresh to order and require advanced reservation.
Eat outside the box and be a guest in a traditional Rajasthani meal, in a local village; the meal is based on unique dishes such as Dal Baati Churma, a blend of rice, veggies and sweet dish made by Camel milk & Rice and local tea.